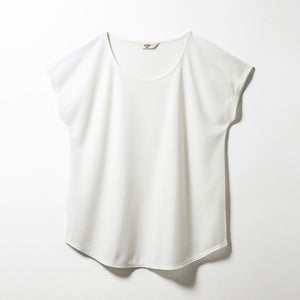 A scoop neck pullover that makes the clavicle look beautiful with the elegant sheer feel of the loop georgette.
You can enjoy the change by matching the silk camisole to the inner and changing the expression with the color inner according to the coordination.

A jersey material that can be worn neatly like a blouse, whether it's a single piece or the inner jacket, perfect for summer. Of course, you can also wash your hands at home.
Wearing it in a setup with Medium Length Flared Skirt is also wonderful.
Material: Loop georgette Mixture ratio: 41% triacetate / 59% cotton
Size: Medium
Length: 67cm
Bust: 108cm
Sleeve length: 33 cm
Hem width: 106 cm
Hand washable
■ Recommended products for setup