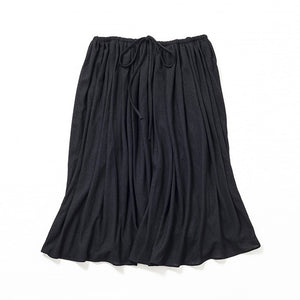 A skirt with a length below the knee that can be worn both beautifully and casually.
The drape made of luxurious materials sways beautifully and elegantly according to the movement. Wearing sneakers doesn't make you too casual. It is thin and less likely to wrinkle, making it ideal as a wardrobe for travel.
The waist is elastic at the back and the drawstring specifications at the front are co-stringed for maternity. The reason why it is so popular is that it can be worn both before and after childbirth. Since it has a lining, there is no need to worry about seeing through even one piece.
Although the material is different, it is recommended to coordinate with the separately sold Cowl Neck Tops .
Material: Triaceloop Mixing ratio: Triacetate 40% / Polyester 60%
Size: Medium
Length: 65cm
Waist: 64cm-84cm
* Maternity support

■ Recommended products for setup